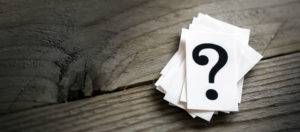 10/11/17 – Pastor Brian's Blog
Judy and I were invited to speak at a family getaway this past weekend.  We had a wonderful time sharing our testimony and then looking at the lives of Joseph and David.  During the first 3 sessions we considered Joseph's life to see why adversity is a good thing and not something that we should fight or run from.
In our last session we studied one of the best known stories in the Bible: David and Goliath.  We looked at how we can defeat the "Goliaths" in our lives.  Needless to say, when you use God's directives, you get God's results and we saw God show up and work like only He can.  And, as always, it goes without saying: they really loved Judy!!
We do not have any Chick-fil-A's where we live so we thought that we would stop in on our way to our conference for lunch.  I was quite surprised when we arrived.  This Chick-fil-A had the largest parking lot I have ever seen for a fast food restaurant.  Not only was it large, I actually had to drive around before I was able to find a car leaving so I had a place to park.  And once Judy and I went inside, the food line looped three times and then went down an isle with people waiting for food.
Thinking that this was some fluke, on the way home we stopped there to eat again, and this time it was even worse!  It was pouring rain outside, yet these people were committed to getting wet and then wait in line for 15 minutes so that they could eat at Chick-fil-A.
As I was sitting there eating my lunch and watching these people stand in line with their wet clothes and water dripping down their faces to get a chicken sandwich, I thought, "How different would our churches look if we were just as committed to the church as some of these people are committed to getting their chicken at Chick-fil-A?"
What would it look like if we were committed to our local church body?  The Book of Acts tells us, "They devoted themselves to the apostles' teaching and to the fellowship, to the breaking of bread and to prayer. Everyone was filled with awe, and many wonders and miraculous signs were done by the apostles. All the believers were together and had everything in common. Selling their possessions and goods, they gave to anyone as he had need. Every day they continued to meet together in the temple courts. They broke bread in their homes and ate together with glad and sincere hearts, praising God and enjoying the favor of all the people. And the Lord added to their number daily those who were being saved." Acts 2:42-47
In order to have a community like this, it takes real commitment.  There is a fake community that seems to thrive in the church today.  A community that checks in with each other once a week on Sundays (or at least the Sundays they are there).  A community that says everything is OK, when they know it is not. A community that comes to church late and leaves early so that they will not have to get into a conversation about what God is doing in their lives.
To fall in love with your church family, it takes time.  God knew that too; the Holy Spirit wrote… And let us consider how we may spur one another on toward love and good deeds. Let us not give up meeting together, as some are in the habit of doing, but let us encourage one another–and all the more as you see the Day approaching. Hebrews 10:24-25
The only way we can encourage one another is to be with one another.  That is why many today are not excited about going to their churches, because we have not taken the time to deepen our relationships.  Our relationships are shallow because we don't make the time to get into each other's lives and the time we do spend together, many times it is spent listening to one person talk.
It was not convenient walking through the pouring rain, waiting in line for 15 minutes for their food, and then trying to find a place to sit and eat.  Well, community in the church is not convenient either, but it has far greater rewards than a piece of chicken between two pieces of bread.
I know some are thinking, "Well, you are a pastor; church is supposed to be important to you."  My response would be, "Your church family is important, not because a pastor thinks so, but because God thinks so. Jesus said, 'A new command I give you: Love one another. As I have loved you, so you must love one another. By this all men will know that you are my disciples, if you love one another.' John 13:34-35
When we think about it, I think it is obvious why genuine fellowship – doing life together – as Christians is so rare.  It is because we have allowed things to come into our life that keeps us so busy that we don't have time to love one another like Christ loved us.  To love like Jesus loves us, would mean giving up our self-centered and independent lives to become interdependent.  I'm sad to say many of us refuse to do that.
Yet the truth is that God never created us to be independent of each other, it is sin that promotes independence.  Sin wants us to isolate ourselves from each other, to separate those that could help us grow, encourage us, use their spiritual gifts to help us. It is sin that wants us trying to meet our own needs.
To become committed to a church family one must deny themselves and allow the Holy Spirit to put to death our natural bent to be self-centered, to live a shallow Christian life.  As long as we are more committed to ourselves than we are to others, we will remain oblivious to the lives that God brings into our life to help us.
Just imagine how different our churches would be if Christians actually believe that their church family was as important as Chick-fil-A was to those people on that rainy and dreary day.
It is amazing what God can bring to your mind just eating a chicken sandwich!