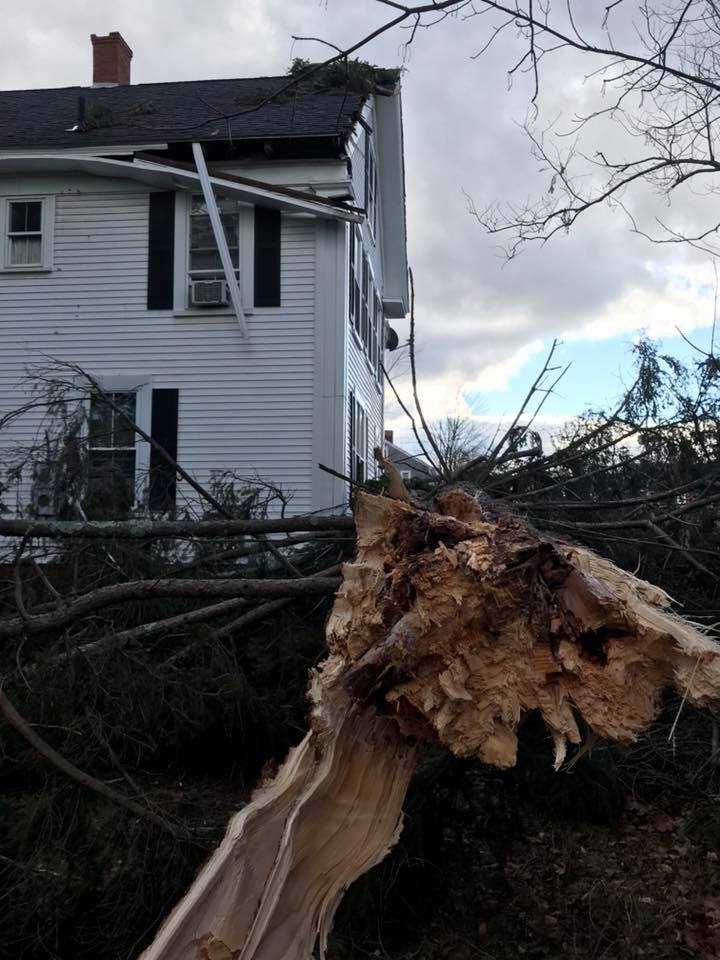 11/15/17 – Pastor Brian's Blog
Remember the 1993 movie entitled "Groundhog Day?"  It was a comedy starring Bill Murray.  In the movie Murray plays Phil Connors, an arrogant Pittsburgh TV weatherman who, during an assignment covering the annual Groundhog Day event in Punxsutawney, Pennsylvania, finds himself caught in a time loop, repeating the same day again and again.
That is exactly what came to my mind last Friday.  I had gone into work early that day and decided to come home for breakfast around 8:30 AM.  I am talking with Judy and I heard this big thud, like the wind had blown over a piece of furniture on the back deck.  I went to the deck to look, and suddenly Judy is screaming that a tree is coming towards the house!!
That "thud" that I thought was furniture being blown around, was the tree snapping just before it started to fall onto the parsonage.  If you read my blog last week you might remember that I told you about a tree falling onto our motorcycle and about a 100+ foot pine tree that fell away from the parsonage into the school bus parking lot.  Well this week the other half of that 100+ foot pine tree snapped and fell into our house.
Like Phil Connors in the movie I begin to think that I am reliving that day when a 100+ pine tree fell in by backyard.  Just to be sure it wasn't a total reenactment I went out front to check to see that our motorcycle was safe!
When our neighbor saw the tree in our roof and alongside the house, she called 911 and within minutes our police department, our fire department as well as our rescue squad where there to make sure that we were OK.  Well to be honest… they told me that they were there to make sure that Judy was OK!
What is sad about this adventure is that if this tree had been taken care of when the other tree broke off from it, then this accident would never had happened.  As I was thinking about that this week, I thought that is much like the sin we leave unaddressed in our life.  Sin is our most persistent, determined and dangerous enemy, and if it is not taken care of, we will have far worse things happening to us than trees falling around our homes.
Left unaddressed, sin will rob us of every good thing God has planned for us.  If sin can accomplish its work, it will bring death… For the wages of sin is death. Romans 6:23
When the men came and cut up and disposed of the tree that had fallen earlier, little did they realize that within 10 days the rest of the tree would be blown over, not onto the bus parking lot like before but in the opposite direction, hitting our home.
Sin is just like that, if it is not dealt with, it will creep into our life and when we least expect it, will cause damage to our lives.  It will lull us into thinking that it will not harm us, which is exactly what our adversary, the devil, wants us to believe.
We will never be able to live the life that God has designed for us if we allow sin to live in our hearts and minds.  The only way we can rid ourselves of sin's bondage is when we recognize sin for what it is.  If we call our sin a "mistake" or a "bad habit" or a "slip up" we will never kill it at its root.
When I counsel people that are struggling with sin I do not allow them to use the term "disease" because that terminology gives the impression that you can't help yourself.  And for the believer that is far from the truth…. His divine power has given us everything we need for life and godliness through our knowledge of him who called us by his own glory and goodness. Through these he has given us his very great and precious promises, so that through them you may participate in the divine nature and escape the corruption in the world caused by evil desires. 2 Peter 1:3-4
One decision not to cut down the standing part of that tree caused the fire department to put on their gear, it caused the rescue squad to show up at our house and caused the police department to use some of their resources to make sure that Judy was OK.  When it comes to the sin we allow to remain in our life, just that one decision can cause the breakup of relationships, it can rob us of our joy, it keeps us from being the parent and spouse God wants us to be, it will cause us not to be a Godly example for others to follow.
I thought that I was reliving my Groundhog Day when trees were falling around my house.  But I have found that there are much more painful and devastating things that can happen to you, and that is when we allow sin to live in our lives.  No good thing has ever come from sin, and it will never will; kill it before it kills you!
Therefore, since we are surrounded by such a great cloud of witnesses, let us throw off everything that hinders and the sin that so easily entangles, and let us run with perseverance the race marked out for us. Let us fix our eyes on Jesus, the author and perfecter of our faith, who for the joy set before him endured the cross, scorning its shame, and sat down at the right hand of the throne of God. Consider him who endured such opposition from sinful men, so that you will not grow weary and lose heart. Hebrews 12:1-3