12/13/17 – Pastor Brian's Blog
Judy and I have had the opportunity, or I should say, privilege, of being in Israel on two different occasions.  On both occasions we walked to a specific sight that could be found just outside the city walls of Jerusalem.
It was a replica of ancient Jerusalem during the time of Jesus.  It was built on a scale of 1 to 50 and you can see many of the sites that Jesus would have seen.  There is Herod's magnificent Temple, David's tower, Herod's palace with its beautiful gardens, the massive Antonia Fortress, the great walls surrounding the city, as well as ordinary homes and shops, all made to be precise replicas of the ancient, glorious city of Jerusalem.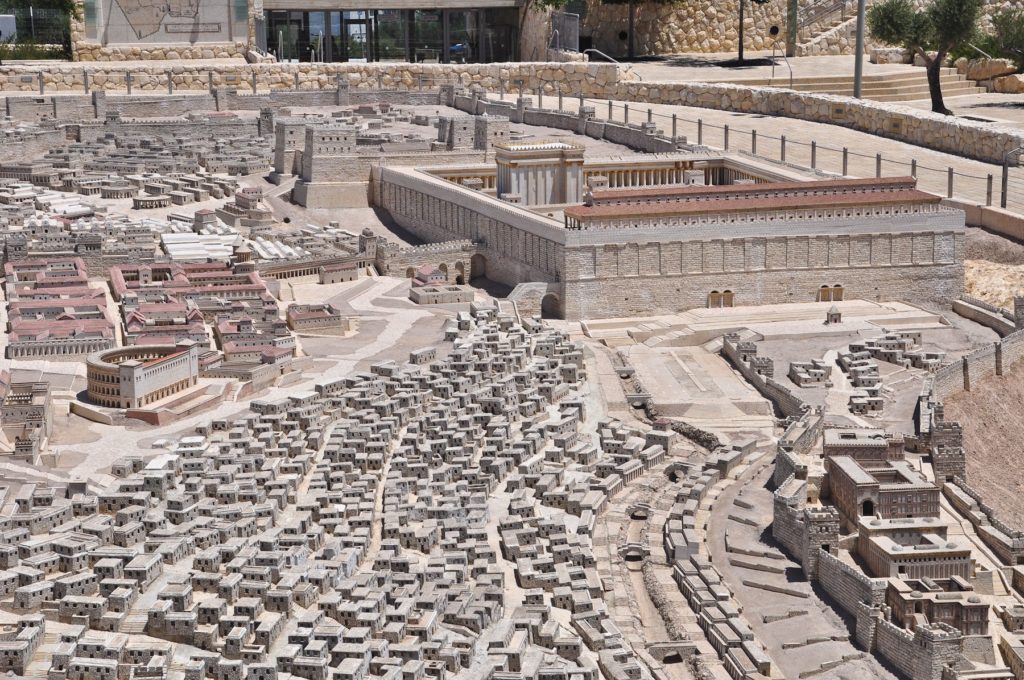 This model city was made "in the image" of ancient Jerusalem.  It was made with great care, close attention to detail, precisely crafted, designed after the real thing, it is a one of a kind creation: just like you!!   The Psalmist wrote… For you created my inmost being; you knit me together in my mother's womb. I praise you because I am fearfully and wonderfully made; your works are wonderful, I know that full well. My frame was not hidden from you when I was made in the secret place. When I was woven together in the depths of the earth, your eyes saw my unformed body. All the days ordained for me were written in your book before one of them came to be. Psalm 139:13-16
You are made in the image of God; God has made you with great care, paying close attention to detail. God precisely crafted and designed you in His image; you are a one of a kind creation.  We are living in a time when many are trying to elevate everything God created to the level of man when it is not.  Only you, me, and all of mankind are created in the image of God.
We are different than the environment, than our pets, than trees, or anything else in all creation.  God created you and I in His image, meaning that you and I are unique beings far above anything else in all creation.  God has given you fingerprints that are unique to you; you may look like you mom and or dad, but God has not created anyone that looks exactly like you, even "identical" twins are not 100% identical.  When God made you, He even ordained every moment of your life to be unlike anyone else's life.
You are a gift not only from God, for God, but you are also a gift to us.  God has given you specific spiritual gifts to meet the needs of people that He will bring into your life… God has given each of you a gift from his great variety of spiritual gifts. Use them well to serve one another.  1 Peter 4:10
He has made you to love people with His love… And hope does not disappoint us, because God has poured out his love into our hearts by the Holy Spirit, whom he has given us. Romans 5:5
God has brought you through difficulties and trials so that you can turn around and encourage us… Praise be to the God and Father of our Lord Jesus Christ, the Father of compassion and the God of all comfort, who comforts us in all our troubles, so that we can comfort those in any trouble with the comfort we ourselves have received from God. 2 Corinthians 1:3-4
As we enter this Christmas season, as we consider what gifts to give, remember you are not a mistake, you are a gift, a gift from God and a gift to God.  He has given you the capacity to know, love. obey, enjoy, and fellowship with Him forever.  Matter of fact, you are such an important gift to Him that He has promised that your importance will never ever end…. Can a mother forget the baby at her breast and have no compassion on the child she has borne? Though she may forget, I will not forget you! See, I have engraved you on the palms of my hands. Isaiah 49:15-16
I must admit that the replica of ancient Jerusalem is pretty impressive, but it doesn't come close to being someone that is created in the image of God.  Because when our lives are a replica of His, when we live like God created us to live, not only are we a gift to Him, but we will also be a gift to everyone around us.
So, God created man in His own image, in the image of God He created him; male and female He created them. Genesis 1:27