4/24/19 – Pastor Brian's Blog –
Even if you're not familiar with the Broadway musical "Carousel," (I am not, I try not to 'do' musicals) chances are you have heard the uplifting message and melody of the song "You'll Never Walk Alone." Although its roots are in the Rodgers and Hammerstein musical, to this day "You'll never walk alone" is sung at association football (soccer to us) clubs around the world, where it is performed by a massed chorus of supporters on matchday. This tradition began at the Liverpool Football Club after it was made famous in the 1963 single by the local Liverpool group… nope you are wrong, not the Beatles, but by Gerry and the Pacemakers.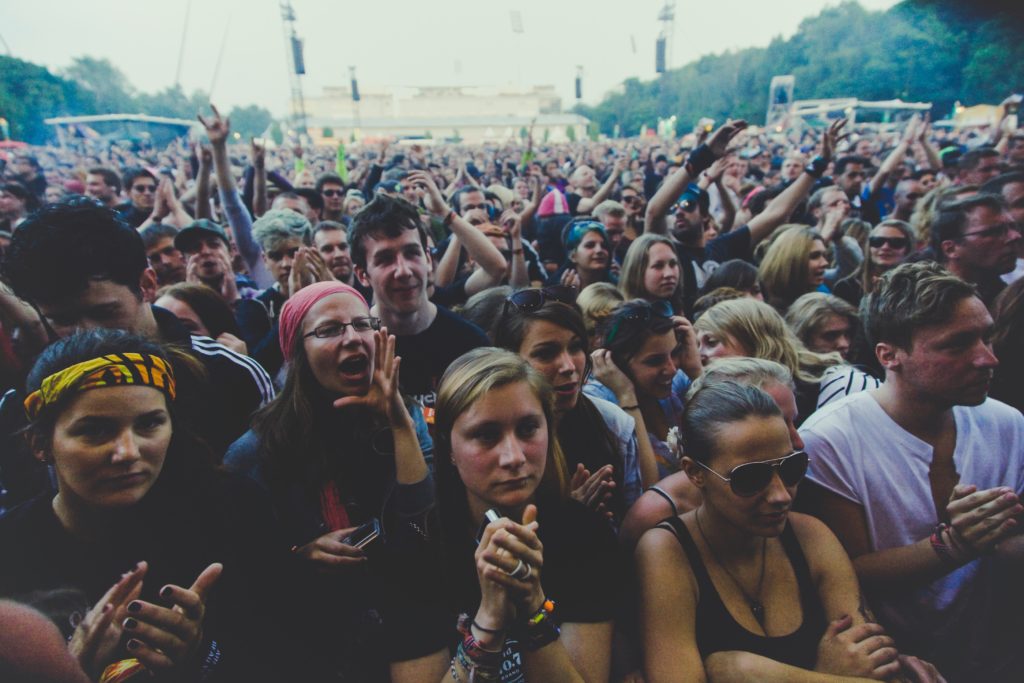 Don't leave me yet! I really do have a point to make! The words to this song go like this…
When you walk through a storm

Hold your head up high

And don't be afraid of the dark

At the end of the storm

Is a golden sky

And the sweet silver song of a lark

Walk on through the wind

Walk on through the rain

Though your dreams be tossed and blown

Walk on walk on with hope in your heart

And you'll never walk alone

You'll never walk alone

Walk on walk on with hope in your heart

And you'll never walk alone
Did you know that, as a Christian, you never walk alone? Even though your family may give up on you, even though life's circumstances want to bury you, even though your spouse may have deserted you, even though that disease wants to kill you, even though _____________. Even when there seems to be no one in sight, as a Christian, it is impossible to be alone!!
Take out a piece of paper and draw a picture of yourself. It doesn't have to be fancy; look at mine below. Now don't cheat, draw your picture before you read on, and at the end of the blog you will be glad you did!!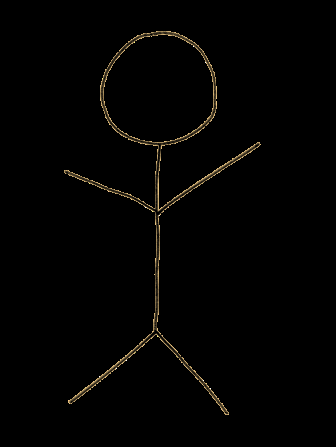 When Abram was ninety-nine years old, the LORD appeared to him and said, "I am God Almighty; walk before me and be blameless. Genesis 17:1 – On the drawn picture of yourself, put the word 'God' behind you, because God says 'walk before me.'
It is the LORD your God you must follow, and Him you must revere. Keep His commands and obey Him; serve Him and hold fast to Him. Deuteronomy 13:4 – Now put the word 'God' in front of your stick figure person because God says, 'it is the Lord God you must follow.'
He who dwells in the secret place of the Most High Shall abide under the shadow of the Almighty. Psalm 91:1 – Now put 'God' over you, as we are under the shadow of the Almighty.
The eternal God is your refuge, and underneath are the everlasting arms. He will drive out your enemy before you, saying, 'Destroy him!' Deuteronomy 33:27 – Put the word 'God' under you, as that is there we find His everlasting arms.
This is the account of Noah. Noah was a righteous man, blameless among the people of his time, and he walked with God. Genesis 6:9 – Put 'God' beside you, because God is no respecter of persons: as He walked with Noah, He will walk with you!
I have set the LORD always before me. Because He is at my right hand, I will not be shaken. Psalm 16:8 – Put 'God' beside your right hand because He is there.
When He works on the left hand, I cannot behold Him; When He turns to the right hand, I cannot see Him. Job 23:9 – Put 'God' beside your left hand because He is there too!
I have been crucified with Christ; it is no longer I who live, but Christ lives in me; and the life which I now live in the flesh I live by faith in the Son of God, who loved me and gave Himself for me. Galatians 2:20 – Put 'God' in you, because He lives in the Christian.
The angel of the LORD encamps around those who fear him, and he delivers them. Psalm 34:7 – Put a circle around you and call that circle 'God' because He is encamped around you.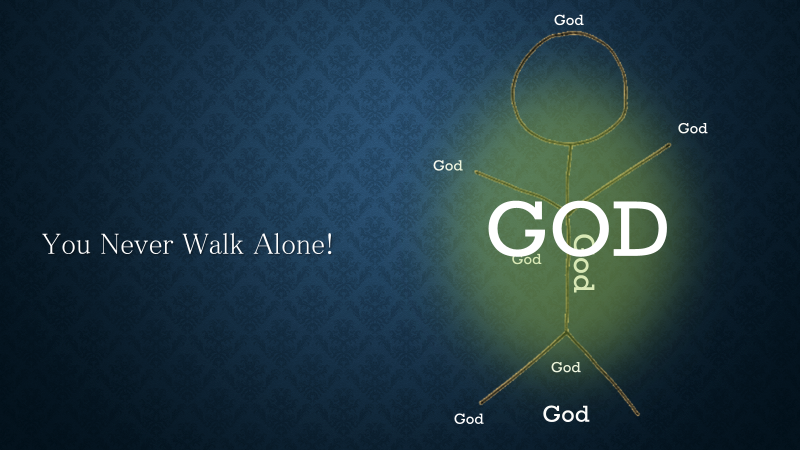 May God's words to Joshua encourage you, just like they encouraged Joshua… "No man will be able to stand before you all the days of your life. Just as I have been with Moses, I will be with you; I will not fail you or forsake you. Have I not commanded you? Be strong and courageous! Do not tremble or be dismayed, for the LORD your God is with you wherever you go." Joshua 1:5-6,9
If you are a visual person (like me) or you are a person that did not follow directions very well in school (like me) and did not draw yourself, then check out my diagram above. And if you just happen to be old enough to be a Gerry and the Pacemakers fan… let their song remind you that as a follower of Christ, You'll Never Walk Alone!!