12/9/2020 – Pastor Brian's Blog –
I remember being in the 6th grade as if it were yesterday. I remember Carl Bowen. He had red hair. He was bigger than I was and he was in the 8th grade. Carl Bowen had 'robbed my joy.' Carl was a bully, and I finally had enough of him. I don't know how it happened, other than it had to be "God's will" because it did happen. It did not happen often, but on this day, Carl Bowen and I were in my classroom and the teacher was not.
My classroom had "cubby holes" where we would hang our coats. Well, on this particular day, I had had enough of Carl's bullying! I watched as Carl walked in front of one of those cubby holes, and saw my opportunity. With arms flailing and determination in my heart to end Carl's bullying once and for all, I ran towards Carl, and shoved him into that cubby hole. I was ready to show him that it was time for his bullying to stop!
This scene did not end up like a Hallmark movie. (You know, one of those movies where everything works out well, the people that disliked each other suddenly become friends, and where right overcomes wrong.) Not even close! I got the "snot" beaten out of me and was sent home with a black eye!
Luckily for me, in the 6th grade I had just started wearing glasses, and my first pair of glasses had big black rims, so it hid the black eye. After a couple of days I was feeling pretty good about it, I thought I had gotten through this without my parents knowing. Then my mother saw me without my glasses on and… well, that story can be for another blog!
If you think about the Bible, the pages are full of bullies! Joseph's brother's bullied him and sold him into slavery. Pharaoh bullied the Jewish people. Haman bullied and wanted to kill Mordecai. Jezebel's bullying sent Elijah running. Goliath bullied David. In the new Testament, the religious rulers bullied Jesus. All of Jesus disciples were bullied to the point of imprisonment and for some, even death.
Yet bullies don't only come in human form, we see them in the form of discouragement, doubt, fear, a bad economy, poor health, uncertain future, a broken relationship or the death of a loved one. Bullies can show up in many different ways.
During this Christmas season let's put the various bullies to rest, by confronting them with joy. Let's replace those angry words, that fear, the doubts and craziness of 2020 with real joy. Let's help those frustrated shoppers, those people that are lacking finances, or grieving loss, by sharing the joy of the Christmas story…
But the angel said to them, "Do not be afraid. I bring you good news of great joy that will be for all the people. Today in the town of David a Savior has been born to you; he is Christ the Lord.

Luke 2:10-11
Let's share how a baby wrapped in swaddling clothes lying in a manger would later wrap Himself with our sin on a cross. Let's share the truth about Christmas, that Jesus came to earth, not to live but to die, so that we could live. Let's share this "good news of great joy" that God did not come just to show us how bad we were, or to make good things happen out of bad events.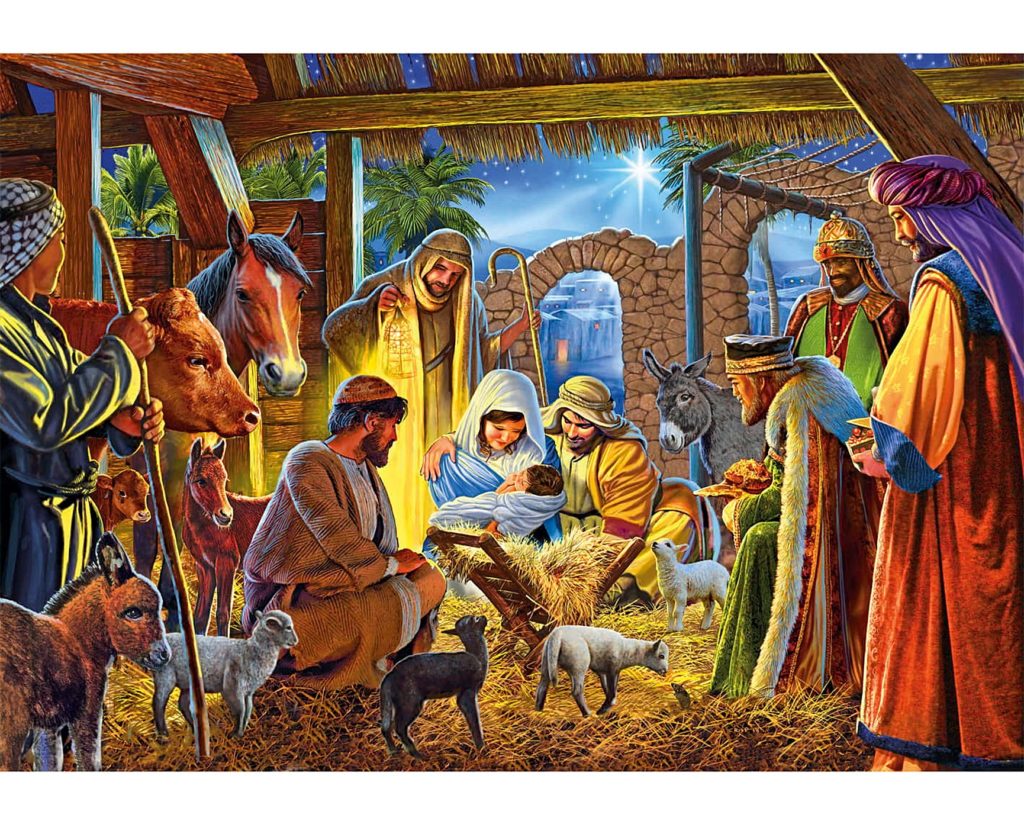 No, the "good news of great joy" is that when we receive God's gift of Christmas, He wraps us in His righteousness. Our sins are covered in His goodness!!
Yet you cannot share this joy with others if you have not experienced this joy yourself. Have you accepted this gift that brings great joy? Remember… "a Savior has been born to you"!! God has given you the best gift of all, He has given you Himself. Jesus is the gift!
Has your year been difficult? Have you felt bullied? Is this holiday season feeling unusually exhausting? Have your circumstances cast a shadow of gloom over what was, at one time, your most wonderful time of the year? Are you experiencing your first Christmas without a loved one? Or maybe you just found out that your children are not allowed to travel home.
Then take a fresh look at the Christmas child laying in that stable in Bethlehem. Look at that God-child that leads us to a life forever changed. This is a monumental gift from God. God gave a gift that no one else could, He provided a way for us to rid ourselves of our failures and sin. God sent His Son to take on our mess, defeat our bullies, to remove our sins and give us life. All God wants you to do is receive His gift, Jesus, the Savior of the world: Jesus, the best gift ever!!
Christian, there is no better time of year to share the Christmas story, all of it. And if you are not a Christian, there is no better time of year to understand the real meaning of Christmas: Jesus came for you!
A friend from church sent me this video yesterday and it brought a smile to my face. May the truth of this song, remind you that you too can get the joy. Remember God is bigger than any bully, even Carl Bowen!