3/21/18 – Pastor Brian's Blog
Does your life look anything like March Madness?  You're leading a fast break towards the basket and then you suddenly find yourself running back to the other end of the court to play defense?  You end up winning the game only to find out that there is another game to play and another team to beat.
Or maybe you are like my younger sister and you enjoy putting jigsaw puzzles together.  Have you ever gotten so immersed in fitting the little pieces of your life together that you forget to take a step back and appreciate what the big picture looks like?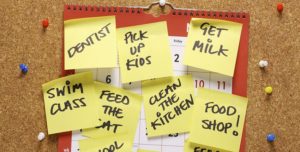 Maybe you are living your life like this, but instead of playing basketball running from one basket to another, you are running from home to work, to baseball practice for your son or to a school activity for your daughter.  Then there is that recital you must attend, or that project that your pastor wants you to work on at church, or maybe that 2nd job or that opportunity for overtime at work. And before you know it, it is Monday again and everything starts over.
Maybe you have become so immersed in your busyness that that you have not taken the time to see if your life is fulling God's purpose for your life. Often it is not that we aren't concerned about God's purpose, it is just that the treadmill of life is going so fast that we find it difficult to find the time to give God's purpose for our life much thought.
As a Christian, the purpose of life is to be like Jesus.
Paul tells us why Jesus came… Here is a trustworthy saying that deserves full acceptance: Christ Jesus came into the world to save sinners.  1 Timothy 1:15.
Peter tells us about the heart of God… He is patient with you, not wanting anyone to perish, but everyone to come to repentance. 2 Peter 3:9
So, it would stand to reason, if God's purpose for our lives is to have a heart like His – wanting to save sinners – He will give us the tools we need to reach the unsaved people that He brings into our life.  And He has; it is called "Our Story." God has given each of us a story to tell and each story is different.  Some call our story 'a testimony,' but whatever term you want to use, the fact is that God has created 'our story' to be unique, and He wants us to share it.
You may feel like your story is not that unique. You might even consider it boring! But the truth is, if God wrote your story (and He has) it is not boring, and it is not a repeat story from anyone else.  You have experiences and insights that God has given you to bring others into His family.  Your story includes where you were when God found you, how you came to Christ, and how the Holy Spirit has and continues to change your life.
Most people are not looking for theologians to talk to about God.  Most people do not expect you to answer every question there is about the Bible.  There is nothing wrong with saying, "I don't know," and ask if you can get back to them with an answer.  Don't be embarrassed if this happens to you, because I am pretty sure that most, if not all, pastors have had to do this very thing.  At least this pastor has!!
Sometimes pastors are seen as "professional storytellers" but you are a person that has actually lived your story, and you are a "satisfied customer" of salvation. Your story and your personal experiences (not only in salvation, but every other life experience that God has walked with you) can be used by God as a bridge from your heart to theirs.
Another advantage of telling your story is that it bypasses arguments.  Those people that just want to debate or question the Bible are often silenced because this is your story, and when we humbly share our story, more often than not, people are receptive and will engage you instead of resist or argue with you.
Peter writes… But in your hearts set apart Christ as Lord. Always be prepared to give an answer to everyone who asks you to give the reason for the hope that you have. But do this with gentleness and respect. 1 Peter 3:15
As you would prepare for a test, or a new job, or an interview, take the time and prepare your story.  Think through what you will say. It doesn't have to be, nor should it be, a sermon, but don't forget to intertwine scripture because… Consequently, faith comes from hearing the message, and the message is heard through the word of Christ. Romans 10:17
Believe me, I know how busy life can become. I know how easy it is to get into that madness from one week to another.  I know what it is like to have more to do than you have time to do it.  It is so important to take a moment and get off that treadmill just long enough to see if we are missing out on God's purpose for our life.
From God's perspective, the eternal salvation of a single soul is more important than anything else you and I will ever achieve in life.  For you see, people are the only thing that lasts forever.  And when God uses your story to reach that person that He died for, then your story has accomplished the very thing God created it to do.
I would encourage you to pray and ask God for an opportunity this week to share your story with just one person.  One person that He has prepared to hear the story that He has written for you.  And if you think of it, write me a note and let me know how it goes!
Here is the story of a Jewish man that I shared with my church this week. Hopefully you will enjoy his story as much as I did.