12/5/2018 – Pastor Brian's Blog
We usually celebrate Christmas at my sister Susan's house with our extended family. There can be upwards of 60+ people spending 2-3 days together, eating, playing board games, eating, playing football at the rented sports area, eating, taking naps, eating some more, and watching the kids who will always put on a Christmas program for everyone to enjoy.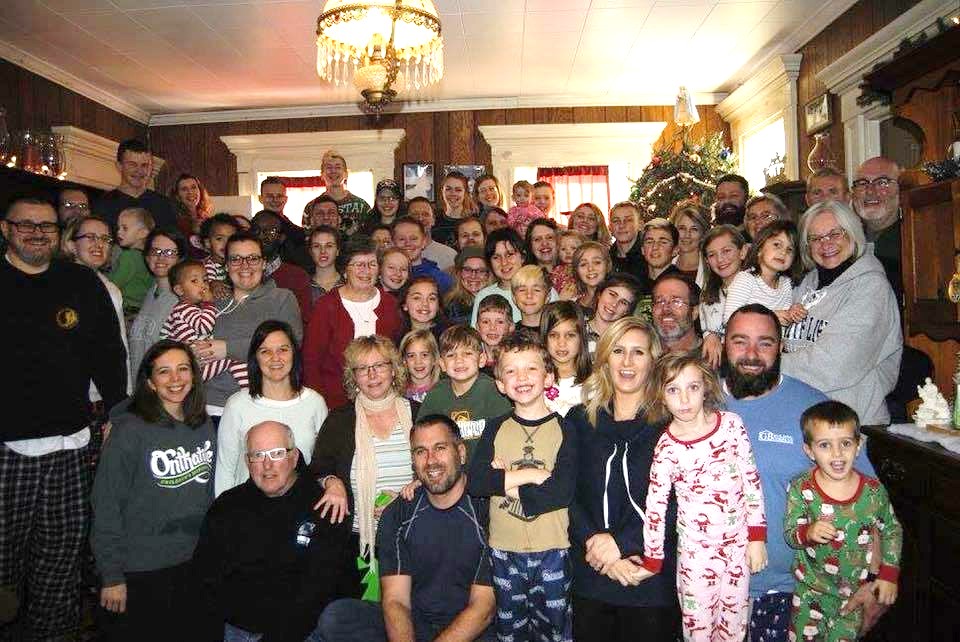 We also exchange Christmas gifts; can you imagine how long it takes to give out gifts one at a time to 60+ people? I don't think you do, especially when you do not open your gift until the person before you opens theirs!! We all have job assignments as well, and my job… is to clean up after we open all the gifts. Do you know how much paper it takes to wrap presents for 60+ people? I don't think you do!! Do you know how long it takes for one person to pick up all that paper especially when the kids are working against you? I don't think you do!!
Last year I drew Tim's name for the gift exchange so I have been thinking about what I should give him for Christmas. With Judy's help I think I have it all figured out. He is going to love it, and so will his wife Kathy. I would love to tell you what it is, but… just in case Tim randomly reads this weeks' blog, I won't be able to say. But if you get invited to our family Christmas, you will be able to see him open his gift; probably somewhere between the 17th and 56th person!!
Christmas is a time to give back. I received a text last night around 10:30 PM from someone from another state asking me for help. I was in contact with someone last week from another country struggling in the ministry. I have been in contact with 2 different men within the past week, from two different countries that are struggling in their marriage. I have people within and without our church that are struggling with finances, children, work, relationships… the list is endless.
As I thought about these people, I asked myself, "What do you give people that are looking for answers?" Can I make a suggestion? This Christmas season give them the gift that no one refuses: the gift of encouragement. I do not know what challenges the people are facing that God is bringing into your life. But I do know this: ministry is hard. Raising a Godly family is hard. Relationships can be hard. Staying ahead of your bills can be hard. Life is hard!! And on top of that, if you are a Christian, you have an adversary, Satan, that is consistently trying to stick his nose into your business, trying to use your challenges to discourage you and even destroy you if he is allowed to.
Give the gift of encouragement this Christmas.
So give the gift that keeps on giving: the gift of encouragement, the gift of comfort. Not the fake kind of encouragement or a comfort that you have to self-generate or be the source for. The encouragement and comfort that people need is the comfort and encouragement that God has already given to you… Praise be to the God and Father of our Lord Jesus Christ, the Father of compassion and the God of all comfort, who comforts us in all our troubles, so that we can comfort those in any trouble with the comfort we ourselves have received from God. 2 Corinthians 1:3-4
Let me share my story with you. Let me share the comfort that God gave me, with the hopes that it will encourage you. I have been writing blogs for a while now, so I am not sure if I ever told you about the time I was unjustly fired from a ministry. I never saw it coming nor did my family. Judy was devastated when I told her. Not only did I lose my job, we lost our housing, and we lost our only means of income. Our youngest daughter couldn't stop crying because she loved camp, our local church, and her youth group, and the fact that we would have to move was just overwhelming to her.
I was fired on Saturday evening. I had guests on the property that weekend, so I had to serve and spend time with them moments after I was fired and then have breakfast with them the next morning. After having breakfast with them, I am sitting in my office, just wondering, "What am I going to do?" I needed to tell my staff that afternoon after all the guests left what had happened. I certainly did not know how to tell my parents or my older children that their son/dad had just been fired!!
The ministry had asked me to stay on for an additional 6 weeks to help with the transition and I agreed too, but at that moment, I was wondering how exactly that was going to look. I have a family that is overwhelmed with emotion, I need to find a new job and housing, and the lists goes on. Yet as I am sitting in my office wondering and talking to God, God met me in a way that He never met me before, nor has He ever met me like that again. As I am working through my emotions and my questions, God speaks to me. Not verbally, but He speaks to me in that still small voice. If you go to the end of this blog, I have written what God said to me that day with the hopes that it may bring comfort to you, that it would encourage you with the comfort and encouragement that I received from God that day sitting in my office.
Now the circumstances you may be facing, or the circumstances that people in your life are facing, may be radically different, but the details of the circumstances aren't the point. What I want to encourage you with is that although the situation may be different, God is not. God is with you, God hasn't given up on you, and God still loves you with His everlasting love.
So be encouraged as you read my "Heavenly Memo" from God, and then encourage someone with our stories. Remember, all of our stories are different, but God's encouragement, God's comfort is available for all of us… For God does not show favoritism. Romans 2:11
If you choose to spend your Christmas giving gifts of comfort and encouragement, then you will know that during this Christmas season, your life was well spent!
Heavenly Memo
From: Jesus Christ
To: Brian & Judy Gower
Re: Be Encouraged
Date: 6/6/99

I am fair; I will not forget the work that you did and the love you have showed for me by helping my people. Hebrews 6:10
Be gentle and ready to forgive: never hold grudges. Remember I forgave you, so you must forgive others. Colossians 3:13
The Lord your God is with you; the mighty one will save you. I will rejoice over you. You will rest in My love; I will sing and be joyful about you. Zephaniah 3:17
Be self-controlled and alert. Your enemy the devil prowls around like a roaring lion looking for someone to devour. Resist him, stand firm in your faith. I Peter 5:8-9
Let your hope keep you joyful, be patient in your troubles, and pray at all times. Romans 12:12
Rejoice that your names are written in Heaven. Luke 10:20
Please run the race that is before you and never give up. Hebrews 12:1
May I enlighten the eyes of your mind so that you can see what hope my call holds for you, what rich glories I have promised the saints will inherit. Ephesians 1:18
Guys, I want you to know that I love you more than anything. My whole purpose is to prepare you and your family to serve Me better. I would do nothing to hurt you or harm you. Let me quote one of my children Max Lucado, "I love you just the way you are, but I refuse to leave you that way, so be willing to risk whatever it takes to see Me."
Love, Jesus