7/3/19 – Pastor Brian's Blog
Marriage! It can be a wonderful thing. And since the beginning of time, it has always been a God thing… The LORD God said, "It is not good for the man to be alone. I will make a helper suitable for him." Genesis 2:18
Last Saturday Judy and I had the honor of attending the wedding of Kelly Dow and my nephew Kaleb Burbank. It was an outdoor wedding, and although the forecast was rain, God saw fit for the sun to shine. One might even wonder if the sun represented God smiling from heaven confirming His approval of this couple coming together.
Although I do like weddings, I must admit that I really like the receptions after the wedding. This reception was no exception! As we waited for the now Mr. & Mrs. Kaleb Burbank to finish their pictures and join us in the reception hall, Judy and I got to visit with family that we do not often see. After a bit, the bride, groom, parents and the bridal party entered the room and the reception was ready to begin!!
Once the instructions were given as to how we were to proceed with the buffet, my niece walked over to me and asked if I would give the blessing for the food. Although I did not have anything prepared, I said, sure I can do this.
As I was praying, I wanted to make sure that I prayed for the bride and groom. I asked God to bless Kaleb and then…. silence. It seemed like a long time, but for the life of me, I could not remember Kelly's name. As the silence continues, people are starting to snicker. So to end the uncomfortable silence, I asked God to bless Kaleb and his wife. Then people began to laugh because at this point, I am busted! People knew that I had totally spaced Kelly's name!
All of a sudden, over the snickers and laughing, I hear this voice that seemed almost angelic. It was the voice of my helper, the helper that God made suitable for me: Judy. She said, "Brian, her name is Kelly!"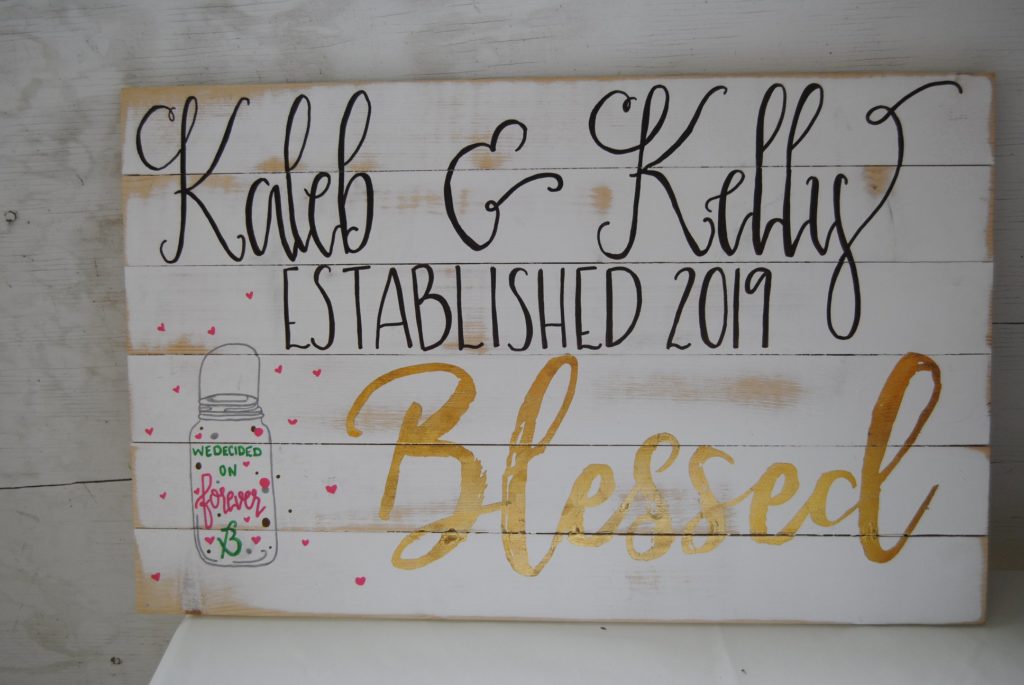 As I was thinking about this whole scenario, it reminded me that this is how life is supposed to be lived. Not necessarily forgetting people's names, but how we are to become a part of each other's lives and help each other. How we can stand together through the trials and difficulties of life, how together we can accomplish more and how we can help each other live up to our God given potential. Who is your "helper?"
Who is your "helper?"
As Christians, God did not create us to live independent lives, but rather interdependent lives… Two are better than one, because they have a good return for their work: If one falls down, his friend can help him up. But pity the man who falls and has no one to help him up! Though one may be overpowered, two can defend themselves. A cord of three strands is not quickly broken. Ecclesiastes 4:9-10, 12
In life there are far more difficult things than forgetting someone's name during a prayer. There are people that are going through really messy relationships. There are people that have lost jobs, found out they have a terminal illness, have children that are not doing well, had 'a friend' betray them. And sadly to say, we read or hear on a regular basis how someone we know has fallen in sin.
If you were to trace back to the beginning and see why that person has fallen into sin, often you will find that they fell because at some level, they were living an isolated life. They had no one present that would hold them accountable in their walk and the choices they were making.
If you are not in a caring relationship of believers: Beware! not only are you missing out on the benefits of living out the life God designed for you, you just might become that person that we read about. The person that falls into that temptation and puts a negative light on themselves, their family, on God as well as His church.
How wonderful it is to have a friend who can help you up when we stumble in our spiritual walk and need restoration. It is just as wonderful to be that friend when others stumble in their spiritual walk and needs someone to help them come back. But… it is even better to be that friend who keeps that one from falling.
Last Saturday Judy did not allow me to "hang out there and dry" but she fulfilled her role as my helper. When I was stumbling, trying to remember a name, she was there to give me the help I needed. May we all be willing to look for ways that we can help each other. Not only does the person we help benefit, the family of God benefits and the unsaved will see us helping and just might want to become a part of it.