12/4/19 – Pastor Brian's Blog
Now that our church Thanksgiving dinner is in our rearview mirror and now that David and Heidi and the 3 boys have returned safely to Rochester, NY, Judy and I have changed our focus as we now enter our favorite season of the year: Christmas! As a child the thing I liked most about Christmas morning was receiving and opening my presents. To open *the* gift that I had been asking for and sometimes even begging for the past 3 months. That gift that my mom had said, "Don't plan on that…" has now become a reality!
Now as a Father and Grandfather, the thing I like most about Christmas is not receiving presents but giving them. To watch my grandchildren open *the* gift that they had asked for, or to watch my kids open a gift that they needed, but did not want to ask for. To give Judy that one gift that she knew nothing about! It reminds me of something Jesus once said… "It is more blessed to give than to receive." Acts 20:35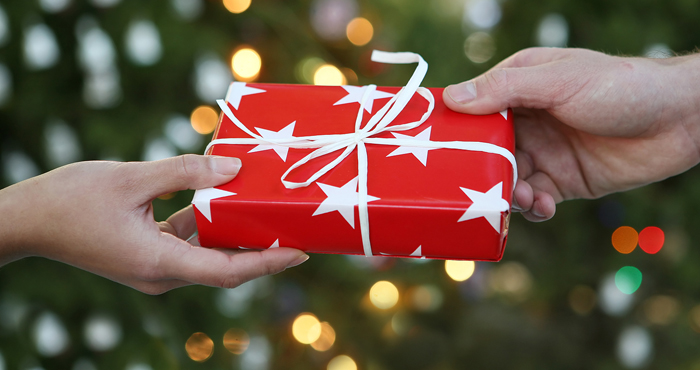 I think giving gifts is an opportunity for us to live out the image of God. God loves to give out gifts, even more than I do… Every good and perfect gift is from above, coming down from the Father (creator) of the heavenly lights, who does not change like shifting shadows. James 1:17
With God, Christmas does not need to be just one day a year; Christmas can be every day! Your gift may not be the newest iPhone or your dream vacation or that shiny new BMW, but it is a gift that is far better; you can have God Himself!
So you might be thinking, "What kind of gift includes 'God Himself?'" I am glad you asked, because in each blog this month, I am going to give you a list of six different gifts that God has given us. Six gifts that you may not open every day, but six gifts that are available to you if you ever need them.
You may be asking, "My week has seven days in it, why only give me six gifts and not seven?" Excellent question, although I am not surprised, because I know the people that read my blogs are really, really smart!!
The reason that I am only mentioning six gifts each week is because there is one gift that needs to be opened every day. The gift of entering into God's presence…. And so, dear brothers and sisters, we can boldly enter heaven's Most Holy Place because of the blood of Jesus. Hebrews 10:19.
So here are your first six gifts…
God's Mercies
The faithful love of the LORD never ends! His mercies never cease. Great is his faithfulness; his mercies begin afresh each morning. Lamentations 3:22-23
Aw this gift is great, because even with all my issues I cannot exhaust God's endless mercy; He is making them new every morning!
God's Direction
Trust in the LORD with all your heart; do not depend on your own understanding. Seek his will in all you do, and he will show you which path to take. Proverbs 3:5-6
When I open this gift, God has promised to show me which path I am to take, I do not have to walk aimlessly wondering what God wants me to do.
God's Energy
For I can do everything through Christ, who gives me strength. Philippians 4:13
No matter what difficulty or discouragement I am facing, God has promised not to give me more than Jesus and I can handle.
God's Wisdom
If any of you lacks wisdom, he should ask God, who gives generously to all without finding fault, and it will be given to him. James 1:5
Wow! Wisdom is not limited to our IQ, our academic training or even life experiences. The wisdom we need comes from God, and He is generous enough to give us all we need.
God's Treasure
Can a mother forget her nursing child? Can she feel no love for the child she has borne? But even if that were possible, I would not forget you! Isaiah 49:15
There are probably people in your life and mine that would like to forget us. Well that will never happen with God, even if He wanted to (and He doesn't); He can't forget us.
God's Love
And I am convinced that nothing can ever separate us from God's love. Neither death nor life, neither angels nor demons, neither our fears for today nor our worries about tomorrow—not even the powers of hell can separate us from God's love. No power in the sky above or in the earth below—indeed, nothing in all creation will ever be able to separate us from the love of God that is revealed in Christ Jesus our Lord. Romans 8:38-39
When Satan comes to you and says that 'no one loves you, and no one cares about you,' take it for what it is… a lie!! You never have to feel unloved, because Jesus loves us so much that He came all the way from heaven to tell us!
Enjoy these 7 gifts from God this week. You may not need each of these gifts every day, but know that they are available to be opened any day. These gifts are for you, created for you by God Himself!!